Many regional and Sydney peri-urban head and neck cancer patients are avoiding or delaying urgent medical appointments because they are afraid of traveling to Sydney.
This fear has two components – fear of contracting COVID-19 and fear of being excluded by their local GPs, dentists, medical specialists and other services when they return home.
Constant reference to Sydney as a COVID hotspot by regional medical practitioners in their screening messaging is creating a misconception of the actual risks.
While regional and peri-urban medical practices continue to refer to the entire area of Sydney as a hotspot patients will continue to make misinformed decisions about the risk of attending Sydney medical appointments.
Patients refusing to travel
In my practice the saying is "if I need to scope you I need to see you". I complete as many consultations as I can via telehealth but the majority of head and neck cancer surveillance consultations require careful physical examination. Multiple times a week my staff and I are hearing regional and peri-urban (Illawarra, Newcastle, Central Coast) patients who need follow up appointments refusing to attend or requesting to postpone their appointments. This is putting them at risk of delayed diagnosis of recurrent and/or metastatic disease. Their fears can be grouped into two areas – fear of catching COVID-19 or fear of being excluded from their local community for two weeks upon their return. Both of these fears are based on unhelpful messaging about so called "COVID hot spots". Matters are made worse because medical practitioners outside of Sydney are among the biggest contributors to this confused messaging.
What exactly is a "COVID-19 hotspot"?
The term COVID hotspot or hot spot is used by the NSW media and government typically when pointing the finger at another state. For example, Queensland currently considers all of NSW a COVID hotspot.
Patients in regional and peri-urban areas are using the same language when referring to Sydney. Which is an irresponsibly sensationalised way to refer to an area of over five million people which, as I write this, has less than one hundred known active cases. You can refer to the official NSW Health Map of NSW COVID-19 cases and testing by postcode for the latest figures.
NSW Health does not use the term hotspot when referring to clusters in NSW
NSW Health does not refer to hotspots within NSW, only when referring to areas interstate.  Instead of the word "hotspot" NSW Health identifies areas which require "enhanced surveillance and increased testing". But unfortunately businesses, including medical practices, dental practices, and allied health practices persist with using this misleading term.
Examples of use of "hotspot" in COVID Safe screening
Below are COVID screening messages received by members of my Practice team from businesses in Sydney. All of these messages use the term "hotspot". Many of you will recognise these types of messages. They are typically used as appointment reminders and in some cases direct customers to screening questionnaires:
Please advise ASAP if you have been in VIC or SYD HOT SPOTS in the last 14 days.
From a dentist
Please ensure you have not travelled to VIC or any of the NSW hotspots and come alone to your appointment.
From a medical specialist
Below is an example from an online screening questionnaire circulated by a Sydney hairdresser. Ironically two of these businesses are located in "areas requiring increased surveillance":
Covid-19 Client Questionnaire
Have you travelled from or visited the state of Victoria or been in an identified COVID hotspot in the last 2 weeks?
Below are examples of more responsible messaging.
If you have flu symptoms or you (or a close contact) have been to Victoria or any of the reported case locations listed on the NSW Health website, in the past few days, please phone to discuss/reschedule your appointment.
From a physiotherapist
… send Y to confirm. Any travel in Victoria within 2 wks call ********* to reschedule.
From a medical specialist
Regional and peri-urban community unhelpful messaging
I am hearing multiple stories from patients in regional and peri-urban NSW who are reluctant to travel to Sydney for appointments. When they are asked to describe their concerns, catching COVID is not always top of their list. Many patients describe their concern of being excluded from GPs, dentists, medical specialists, physiotherapists etcetera for two weeks after returning home from Sydney. This is because they keep being asked over and over again before attending local appointments if they have been to Sydney or associated with anyone who has. I have one patient In Newcastle who told me his dental practice instructed him to sit in his car in the carpark to be screened before being allowed to enter the premises. What made this protocol all the more confusing was that at the time NSW Health had identified Newcastle as a COVID case area and thousands of people in the area were self-isolating. We joked that I should be screening patients in my Practice to ensure they had not been to Newcastle!
These practices and practitioners are entitled to protect themselves and their patients, and as far as I am aware, they are not refusing to see patients who have been to Sydney. I am not accusing them of doing anything wrong. But I am holding them responsible for contributing to a misleading picture of Sydney and contributing to increased fear for patients to attend Sydney medical appointments. Their pre-consultation messaging is blunt and signals that "Sydney is too dangerous to visit" and "if you've been to Sydney we won't see you".
Cancer vs COVID – putting case numbers and risk into perspective
I understand that patient reluctance and fear regarding travel to Sydney is valid. It is also typically more irrational than rational. But for patients with cancer symptoms these fears can be tragically misplaced. I am seeing evidence of this on a daily basis, whether it is patients with delayed diagnosis or overhearing my staff patiently reasoning with patients at risk of recurrence or metastatic disease. Frustratingly I am seeing little effort from government or health professional societies to address these fears. I also worry about the longer term implications. My cancer workload for the months and years ahead is going to be shaped by a bottleneck of cases caused by the coronavirus pandemic. Sadly I predict that as a result more patients will present with advanced disease and therefore face poorer outcomes.
Cancer is not going to wait for a COVID vaccine or rapid testing kit, and medical professionals are going to have to learn to balance their personal paranoia with the needs of their patients. In order to help patients weigh the risks of a delayed cancer diagnosis the risk of contracting COVID-19 I think it is worth sharing tools for a simple risk analysis.
Risk Analysis – Comparing Sydney, COVID and Cancer
Step 1: Identify hazards
I am suggesting patients perceive two major risks in tension with one another when they consider traveling to Sydney for cancer surveillance;
Catching COVID-19
Delaying cancer diagnosis of treatment – either a first cancer, metastatic disease, or recurrence.
Step 2: Calculate the likelihood
For each hazard identify the likelihood. When assessing the likelihood of contracting COVID I recommend you investigate the most recent data from NSW Health https://www.nsw.gov.au/covid-19/latest-news-and-updates
Unlikely
Seldom
Occasional
Likely
Step 3: Calculate consequences
The consequences of COVID-19 will vary from patient to patient. But the consequences of a delayed cancer diagnosis will continue to escalate over time.
Insignificant
Marginal
Moderate
Critical
Catastrophic
Step 4: Calculate the risk rating
Low
Medium
High
Extreme
I want to point out two major differences between assessing these two risks;
The likelihood of contracting COVID-19 will fluctuate depending upon active case numbers.
The consequences of delaying a cancer diagnoses will become worse over time. Cancers are typically aggressive, especially head and neck cancers where weeks can make the difference in the choice of treatment options and long term survival and quality of life.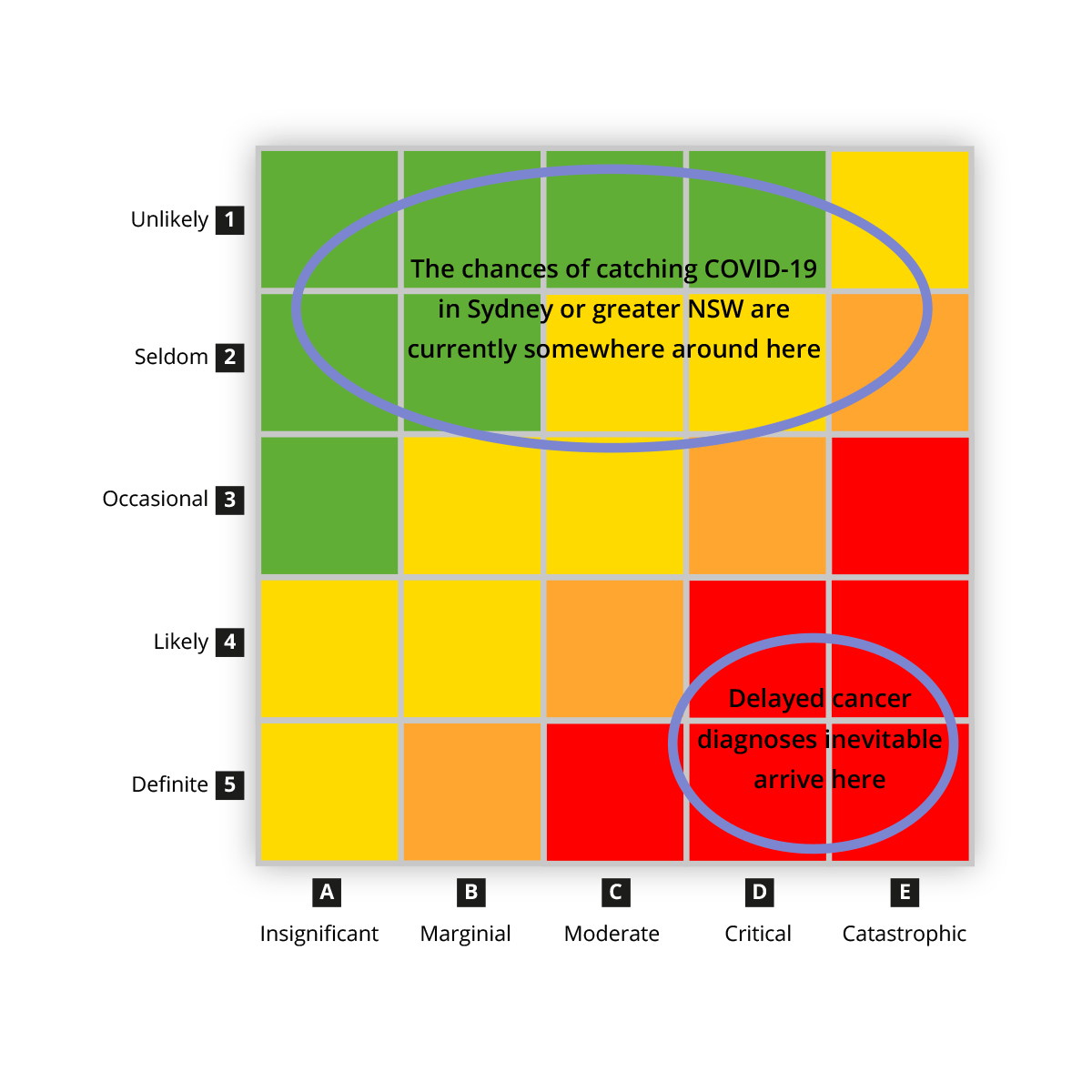 I don't want any of my patients to end up in Critical or Catastrophic situations because of either COVID or cancer. But I fear I know which is the more likely outcome.