Completing more than 300 Trans Oral Robotic Surgical (TORS) procedures on the da Vinci platform is a career highlight. It is the most cases performed by an individual Australian surgeon. In this blog I describe how my fascination with minimally invasive surgery led to my interest in robotics.
TORS legends Drs Weinstein and O'Malley
The Transoral Robotic Surgery (TORS) technique was first developed by Drs Gregory Weinstein and Bert O'Malley Jr in 2004-2005 at the University of Pennsylvania, Philadelphia, also known as UPenn.
At the time, surgical robots, in particular the da Vinci Surgical System, were already being used in urologic, thoracic and abdominal procedures but no one was using them in head and neck.
I first met Greg in 1997, three years before the FDA approved the da Vinci surgical robot and well before TORS was a twinkle in Greg's eye. At the time I was an Advanced Surgical Training Fellow at the University of Viriginia Health System University Hospital in Charlottesville, Virginia. My wife Shona and I were in the second of two years of living away from Sydney while I pursued back to back fellowships. Charlottesville, Virginia, was a spectacular place to live and within easy reach of Philadelphia.
Towards the end of our year I traveled to Philadelphia to attend a short course run by Greg Weinstein about laryngeal preservation surgery. Throughout my training, and still to this day, I have been fascinated by head and neck surgical techniques which focus on minimum invasion and maximum preservation. I had been an admirer of Greg Weinstein when I was a surgical trainee. I could see that, like me, he was driven to improve long term outcomes for head and neck cancer patients.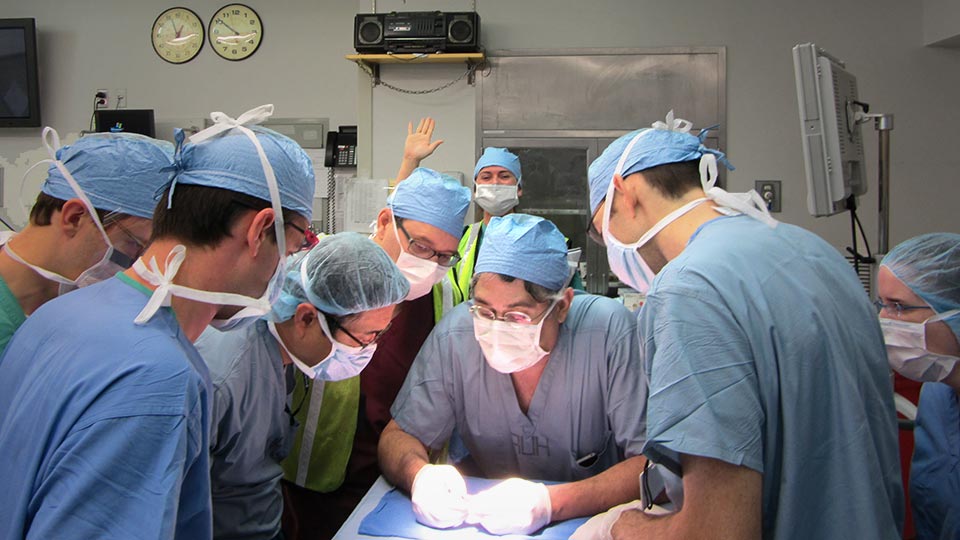 Examining extracted specimens with Gregory Weinstein MD and the TORS Training Team at UPenn with Mel and me in our yellow training vests 2011
Minimally Invasive Surgery (MIS)
My time in Charlottesville, Virginia was the second year of two twelve month surgical fellowships. Both fellowships were completed after I finished my training and admitted as a Fellow to the Royal Australasian College of Surgeons in 1996. The first fellowship was in Head and Neck Surgery at Princess Alexandra Hospital, Brisbane, and the second was in rhinology at the University of Virginia. These two areas of sub specialisation, head and neck, and complex rhinology, became the foundation stones of my practice.
My twelve month advanced training fellowship at UVA in complex rhinology was with Charles W Gross MD, a nationally recognised sinus surgeon who pioneered powered instrumentation and the endoscopic modified Lothrop procedure. Otolaryngology – Head and Neck Surgery, commonly referred to as Ear, Nose and Throat (ENT), has long been a surgical discipline engaged in minimally invasive surgery (MIS). Gross' approaches challenged me to think about taking MIS to new levels.
In 1998 Shona and I returned to Australia and slowly established my practice at St Vincent's. During those early years the bulk of my work was complex rhinology, particularly revision sinus surgery, and skull base surgery. I also consistently performed head and neck procedures. Meanwhile, Weinstein, O'Malley Jr, and the extended UPenn team continued to pursue other minimally invasive surgery techniques.
When I first heard about Transoral Robotic Surgery (TORS)
In March 2007, when my professional practice was eight years old, I traveled to Adelaide, South Australia, to attend the Australian Society of Otolaryngology Head and Neck Surgery (ASOHNS) Annual Scientific Meeting. Gregory Weinstein was one of the keynote speakers. The first da Vinci robot had arrived a few months earlier at my hospital in Sydney and the concept of robotic surgery was extremely novel and foreign to the majority of Australian surgeons.
At this meeting Greg spoke in detail about TORS, the da Vinci platform and the potential applications of the robotic approach. After discussions with Greg I came to realise that the real opportunity with TORS lay with the application of robotics to removing tumours in the oropharynx. This was extraordinary timing – TORS as a surgical technique was emerging in tandem with the human papillomavirus (HPV) related oropharyngeal cancer epidemic.
The moment I knew I wanted to be a TORS surgeon
Fast forward another two years to 2009. Shona and I, with our two small children, traveled to Philadelphia, where I attended the 2009 Rhinology World Congress. I was speaking at the conference on a panel about "Management of Complications in Sinus Surgery", specifically management of injury to the internal carotid artery, but the session I most wanted to attend was Weinstein and O'Malley's presentation titled "Instructional Course: Robotic Skull Base Surgery". The key word here is "instructional". In this hands on session my conceptual understanding of TORS reached a new level of understanding. That is when I knew I wanted to expand my practice to focus on head and neck and become a TORS surgeon.
Planning my training
I returned to Australia and began exploring how I could become a TORS surgeon. I already had a huge advantage in that my hospital owned a da Vinci robot, in fact St Vincent's Private Hospital, Sydney had acquired the first Australian da Vinci Surgical robot in 2006. Three years later it was still only used by urologists. In order to become a TORS surgeon I knew I needed to develop an entire TORS program.
Developing a TORS robotic program at St Vincent's, Sydney
I set about developing a business plan for a TORS program at St Vincent's while also investigating my training opportunities in the US. The most important step was to ensure St Vincent's Private would support me and guarantee access to the robot. It made no sense for me to invest hours of my time and tens of thousands of dollars of my own money to train as a robotic surgeon if I could not secure access to the equipment. I also knew that I needed a surgical nurse to train with me, a nurse who was familiar with head and neck surgery. Fortunately St Vincent's Private supported me on both fronts. They guaranteed access to the robot and they offered to send surgical nurse Melissa Purss to train with me. The St Vincent's TORS program I developed was the first in NSW and the second in Australia.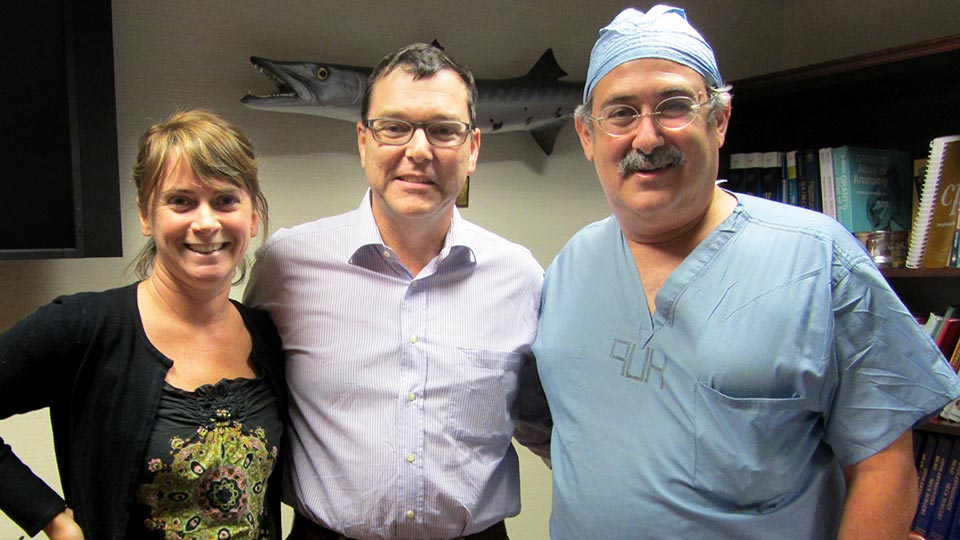 From left: R Mel Purss, surgical nurse, me, Gregory Weinstein MD in his office at UPenn 2011
My TORS Training
There were four steps to my robotic training;
An online module delivered by Intuitive Surgical
Operating under supervision in a live animal lab in New Jersey
Operating under supervision in a cadaver lab in Philadelphia
Operating under supervision back home at St Vincent's
Training in New Jersey and Philadelphia
In October 2011 Mel and I traveled to the US for two weeks of training. We started at The Center of Excellence for Robotics Hackensack University Medical Centre, New Jersey working in the live animal lab. This gave me my certificate of offsite training. Mel and I then traveled to the University of Philadelphia where the fantastic TORS Training team took us through our paces.
I will never forget my first console experience. It was absolutely thrilling. Looking at the anatomy was like nothing I'd ever seen before. The ability to sit in a corner of the operating theatre and control instruments elsewhere still amazes me.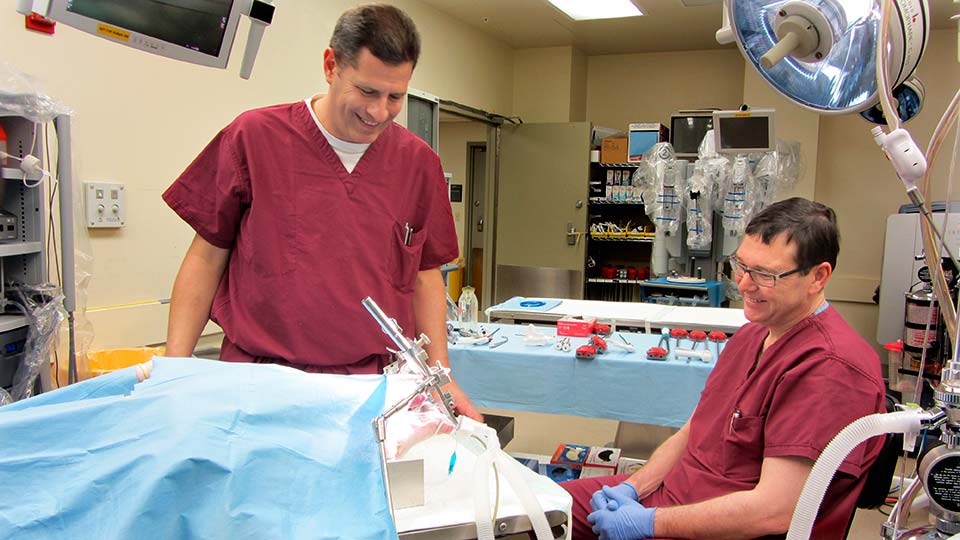 Training in the Havensack animal lab 2011
Early days – a steep learning curve
Mel and I returned to Australia where I was mentored by A/Prof Suren Krishnan for three tonsillectomies. That was the final stage of my training. The next two years were a big learning curve. Making the leap from competency to proficiency as a robotic surgeon takes time and experience. It took me a while to get used to the idea that I do not have my hands inside the patient when using the robot, which is important because robotic surgery requires surgeons to problem solve differently to existing open approaches.
Robotic surgeons also have to think differently about how to use surgical assistants and nursing staff, and have the experience to fill the gaps left by receiving no haptic feedback from the robot ie no sense of touch, no sensation from the robot which simulates the sensations you feel when manually performing surgery. That is also why I think experienced surgeons with an existing minimally invasive surgical practice make better candidates for robotic surgical training than inexperienced surgeons at the very beginning of their surgical career.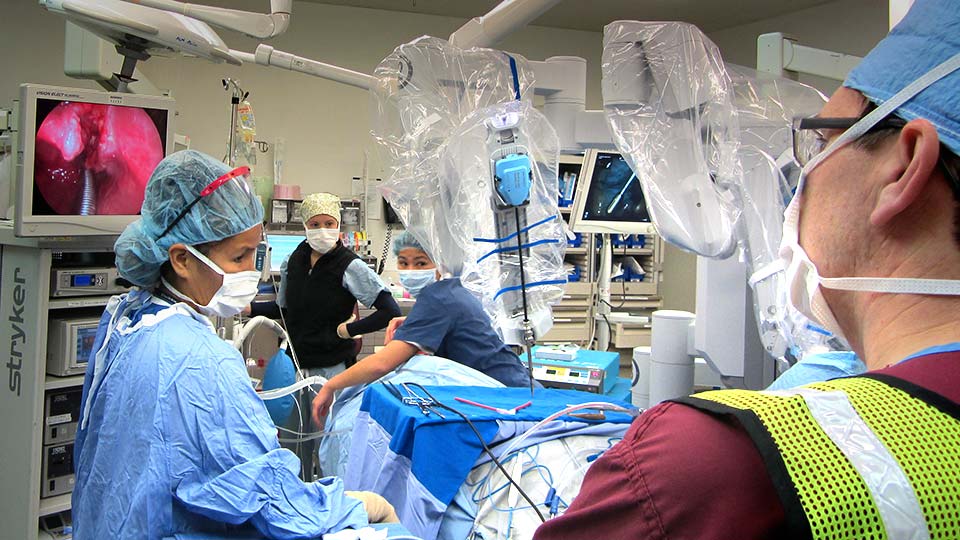 da Vinci robot in UPenn's Training Unit 2011
Mentoring and training of upcoming TORS surgeons
Here we are in June 2020 and I have completed more than 300 TORS procedures and we are eagerly awaiting the next version of the da Vinci robot which will provide TORS surgeons with even greater access to the oropharynx. These days I also mentor and supervise upcoming Australian TORS surgeons. Slowly the number of TORS surgeons in Australia and New Zealand is growing, although currently you will only find Krishnan and I on the da Vinci Surgery website as we are the only Australian TORS surgeons to have individually completed more than 200 cases.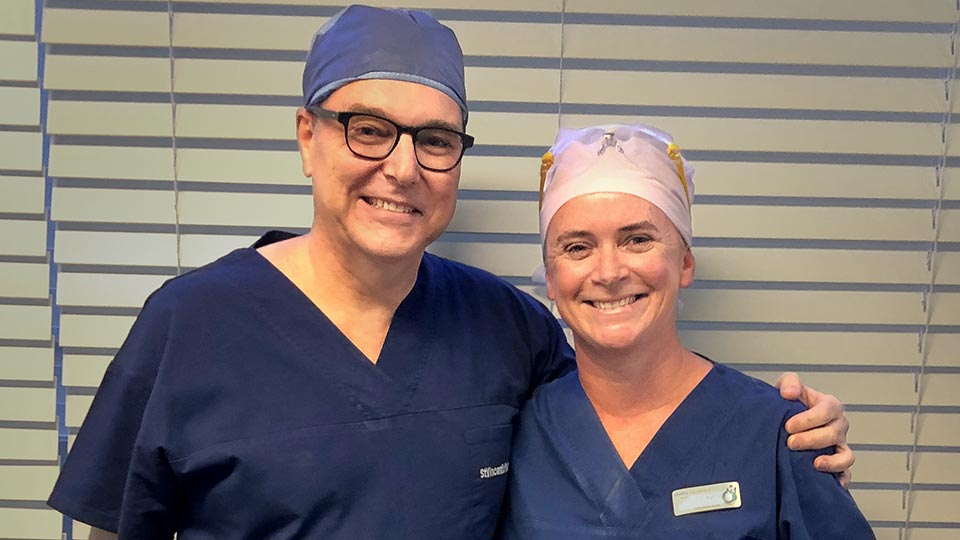 June 2020, TORS surgical nurse Mel Purss and I after completing TORS case number 301
Thank you to my supporters
On the occasion of completing my three hundredth TORS procedure I want to thank those who supported, trained and mentored me through the past eight years, particularly Mel Purss who still operates with me today, and Victoria Waghorne, Nursing Unit Manager, St Vincent's Private Hospital. I should also mention the fantastic support of St Vincent's Private Hospital, The St Vincent's Curran Foundation, the wonderful donors who support the St Vincent's robotic program, and the patients who put their trust in me. I could not have done any of this without you.