St Vincent's Head and Neck Cancer Fund
| | |
| --- | --- |
| Mission | To challenge the status quo of treatment of head and neck patients in Australia. |
| Vision | World standard care for Australian head and neck patients regardless of economic status or geographic location. |
| Strategy | To build the most measurably robust head and neck treatment, training and research service in NSW with a focus on long term quality of life beyond short term treatment. |
| Values | Compassion, justice, integrity, excellence. |
The St Vincent's Head and Neck Cancer Fund is dedicated to improving the long term outcomes of Head and Neck Cancer patients and carers by supporting research and advanced training of medical and allied health professionals.
History
The fund was established in 2005 with a donation of $500K from Ian Norman, cofounder of Australian retailer Harvey Norman. Ian was a Head and Neck Cancer patient of Assoc Prof Richard Gallagher. Ian survived his disease before dying of unrelated causes in 2014. The St Vincent's Head and Neck Cancer Fund is supported entirely by private donors. The Fund has created a range of research, training, and patient initiatives.
Recent Donors
In February 2020 St Vincent's Head and Neck Cancer Fund received a major donation from the family of Angelo Macri Jr. Angelo, a young farmer from Griffith. You can read about the amazing spirit and generosity of the Macri family in our News section. 
Excellence in Head and Neck Cancer Care at St Vincent's
St Vincent's Sydney cares for more public Head and Neck Cancer patients than any other hospital in NSW including the Chris O'Brien Lifehouse. This commitment to public and private patient care is an important part of the hospital's mission and the Fund's connection to The Sisters of Charity. The high volume of public patients at St Vincent's benefits all Head and Neck Cancer patients, both public and private, because of the wide experience it provides to the broad multi-disciplinary Head and Neck Cancer Team.
NSW Cancer Institute Reporting for Better Health Outcomes 2018
Research
In 2017 a tissue biobank was established between St Vincent's Head and Neck Cancer Fund and The Garvan Institute. The project aims to use genomics to better understand how and why HPV related oropharyngeal cancer grows and spreads to lymph nodes of the neck. The biobank samples are available to researchers across the globe conducting genomic research into Head and Neck cancer and metastatic disease. The bank currently has in excess of forty paired primary and lymph node metastasis. The lead researcher is Dr Venessa Chin.
St Vincent's Head and Neck Cancer Fund supports a Research Assistant & Data Manager based at The Kinghorn Cancer Centre. Their role is to support the development and publication of research related to Head and Neck Cancer.
Advanced Surgical Training
In 2018 St Vincent's Head and Neck Cancer Fund created the St Vincent's Head and Neck Surgery Advanced Surgical Fellowship training program, now known as the Angelo Macri Fellowship. The fellowship is a one year advanced training program for early career surgeons who have demonstrated an interest in Head and Neck Cancer surgery and have completed Otolaryngology, General, or Plastic and Reconstructive surgical training under the auspices of the Royal Australasian College of Surgeons (RACS) or equivalent. The Head and Neck Fellow works across the St Vincent's campus in both public and private hospitals and is actively engaged in research. Past Fellows have included Dr Brett Leavers and Dr Peter Floros. Recruitment of the 2021 Fellow has been delayed due to the COVID-19 pandemic.
Dissection Course
In 2018 the fund established the St Vincent's Hospital Head and Neck Dissection Course. This is an annual two day cadaver course for surgical trainees, established surgeons, nurses, physiotherapists and other clinicians directly engaged in the care of Head and Neck Surgery patients. The course is run in the dissection laboratory of The Sydney Hospital, Macquarie Street. The 2020 course has been delayed due to COVID-19.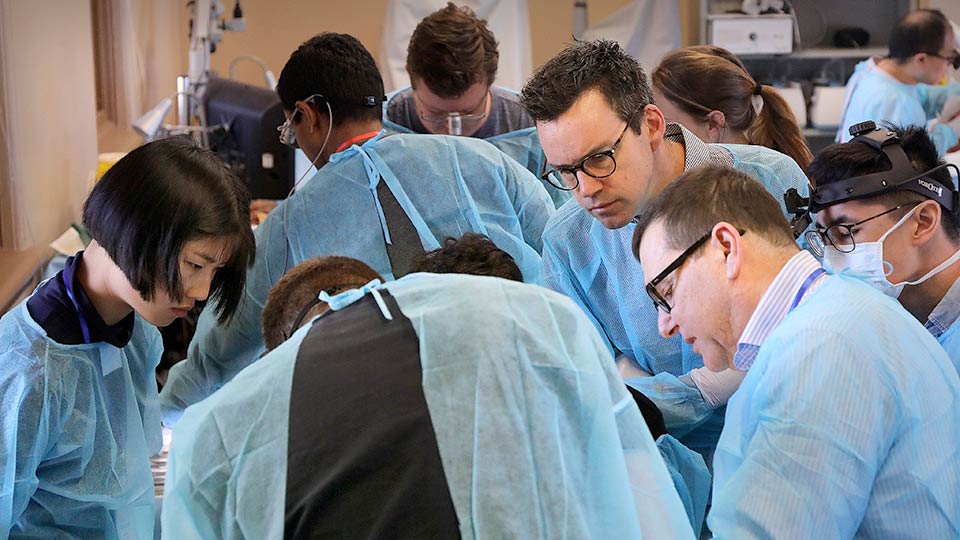 2019 Dissection course included attendees from across Australia
Allied Health Scholarships
Over the past fifteen years St Vincent's Head and Neck Cancer Fund has provided scholarships for allied health workers such as social workers, speech pathologists, cancer care coordinators, and dietitians to attend Head and Neck cancer conferences and training programs.
Patient and Carer Support
Before the COVID-19 pandemic St Vincent's Head and Neck Cancer Fund was in the process of establishing Australia and New Zealand's inaugural Head and Neck Cancer Patient Forum in conjunction with patient advocate and journalist Julie McCrossin. The forum was due to take place in June 2020. It has now been moved to an online platform. This forum is the first of its kind in Australia and New Zealand. The forum's goal is to bring patients, family & multidisciplinary team members together to share examples of good work to improve the lives of people affected by Head and Neck cancer. You can learn more about the forum here https://headneckcancerforum.com/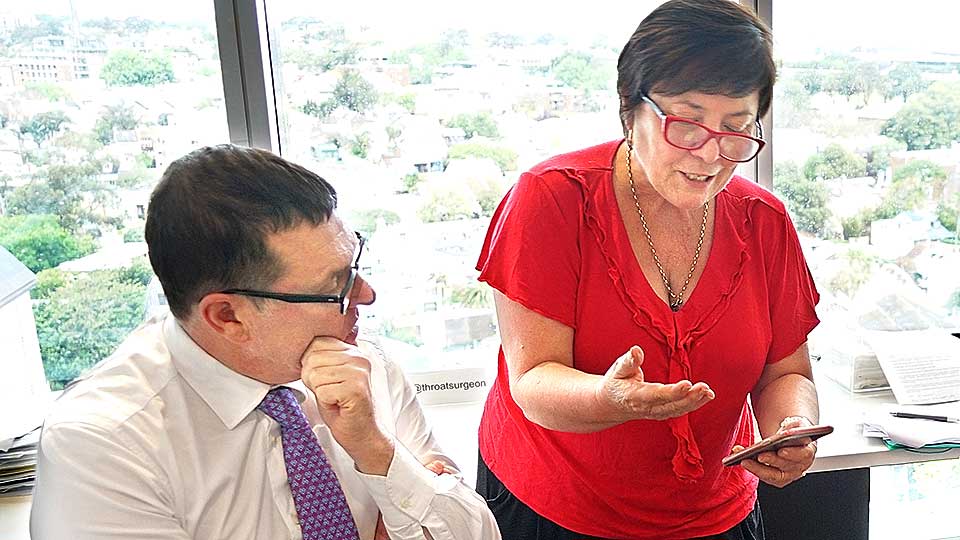 Richard Gallagher and Julie McCrossin planning the 2020 Patient Forum
Current Funding Priorities
Increase the number of Head and Neck Cancer Clinical Nurse Consultants and Social Worker

Expanding tissue biobank research established in 2017 with The Kinghorn Cancer Centre and The Garvan Institute

Head and Neck Cancer Patient and Carer Forum
Governance
The St Vincent's Head and Neck Cancer Fund is administered by St Vincent's Curran Foundation, the fundraising organisation for St Vincent's Facilities in NSW. All donations are tax deductible.
How to Donate
Thank you for donating. There are a number of ways to donate;
Please quote SVPH Head and Neck 10451 to ensure your donation reaches the St Vincent's Head and Neck Cancer Fund.